Exactly How to do the Master Cleanse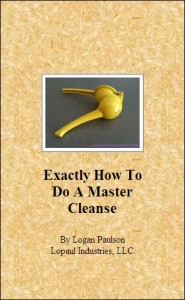 Have you been interested in doing the Master Cleanse, also called the Lemon Cleanse or Lemonade Diet, but haven't known where to start?  In this ebook, I will take all the mystery out of it and tell you exactly what to do!  I have done the cleanse numerous times now and have compiled a wealth of knowledge on how to prepare, what to expect, and exactly what to do to be successful.  I have created a winning formula with exactly the steps YOU need for your own journey.  Also, much of the challenge is mentally being able to follow through with not eating solid food for a period of time.  In this book I start off by focusing on the mental aspect and give you tips on how to conquer the mental challenge successfully.
Why Do The Cleanse?
The primary benefits of the cleanse are weight loss and cleaning out the body.
Cleanse
I find that over time I get heavy congestion built up in my head and sinuses.  When allergies flair up or I'm having a particularly bad day, I get more and more frequent sinus headaches that completely incapacitate me forcing me into bed until I can get through them.  When I start a cleanse I usually have little or no sense of smell due to the congestion.  The cleanse really drains all that out.  After the first few days I can start to smell again, and by the end I feel like I have a super-smeller nose!
It also allows the body time to heal itself in other ways.  Because your body isn't spending so much time and energy to process food, it has more time to heal itself.  You may find bruises or injuries healing faster or old issues improving.  For example, I had a sore on my nose that kept recurring.  it would scab over and appear to heal, but after a while it would open up again and then rescab, etc.  During my last cleanse it scabbed up for good and now has been gone for good!
Weight Loss
Because of the reduced caloric intake, the body naturally will lose weight.  I have experienced weight loss of almost a pound a day!  My last cleanse I dropped 20 pounds after a 16 day cleanse!
Get instant access to the book in pdf format for $19.99.  There is no need to go into the cleanse alone and without a plan.  Order my ebook today and get access instantly to my wealth of knowledge to help you on your path.  If you have any questions, please use the contact page to contact me.

After payment, you will be directed to a page where you can instantly download the ebook in pdf format.  You will require Adobe Acrobat Reader to view it which is a free download here.